Heat transfer vinyl is a form that allows you to permanently apply personalized graphics to various substrates using heated tools such as a heat press or a household iron. Meanwhile, printable HTV is a permanent vinyl that you can use with an eco-solvent printer.
  One of the biggest misconceptions we see in the apparel decoration industry is that many people say that Printable HTV is actually heat transfer paper. So, what's the difference? In addition, there is a saying that printable htv is better than heat transfer paper. If you want to know the answer, you need understand these two products at first, so that you can accurately judge which one is the best, but in fact, the one that suits you is the best
1. What is printable vinyl?
  Printable heat transfer vinyl (PU) is the easiest way to achieve multicolor graphics on your garments. You can use an eco-solvent printer to print high-definition patterns on the back of the printing film, then transfer the printed thermal transfer vinyl to the transfer film through a cold laminator, and tear off the bottom of the PET self-adhesive printing film. Transfer to garment fabric by heat pressing. Printable HTV printing images are vivid, the color reproduction is good, and the hand feels soft and comfortable.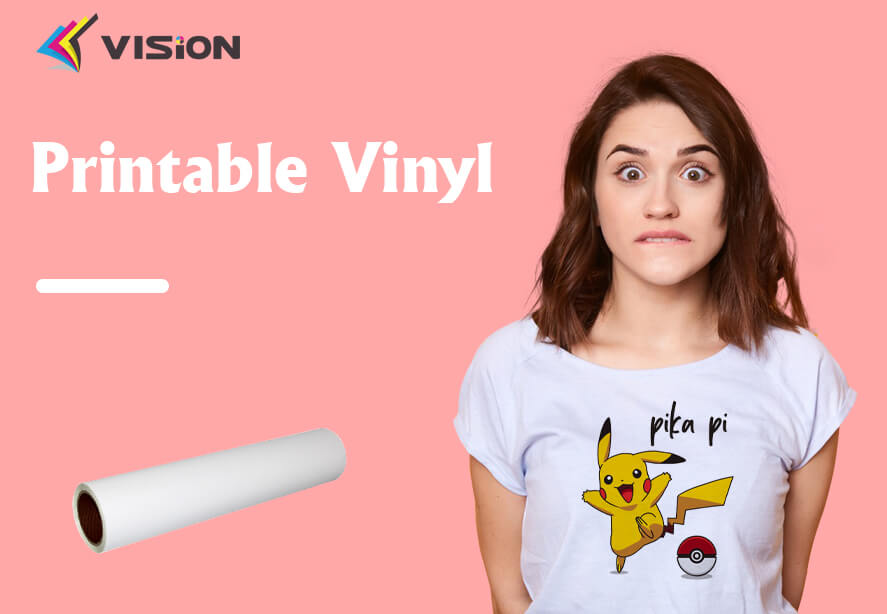 The printable HTV won't work with the normal desktop printers you might have at home, such as inkjet or laser printers. Effective printing on a printable HTV requires a printer that uses eco-solvent ink.
 On the other hand, heat transfer paper is not exactly like PU printable vinyl. Like the title, it feels a lot like paper. Inkjet and laser printers are specifically designed to print on paper, not vinyl. Therefore, heat transfer paper is suitable for inkjet or laser printer printing.
2. What is transfer paper?
  Transfer paper is used for printing on light/dark cotton textiles, suitable for inkjet or laser printers. Transfer Paper by VISION factory for dark or light colored fabrics use an inkjet or laser printer to print transferable artwork, digital images, or clip art onto cotton and polyester fabrics in vibrant colors. It has very good wash resistance.
  Printable HTVs are a great way to add variety. You can print small details and a large color range compared to non-printable HTVs. The printable HTV is perfect for printing custom graphics or even full color logos. It is better quality than heat transfer paper and more durable as it will usually outlast your clothes if used properly. Unlike heat transfer paper, fading and cracking of printable HTV is very rare. In addition, printable HTVs have no requirements for transfer materials. But transfer paper can only be used on cotton fabrics. But in terms of equipment, a printable HTV requires a special eco-solvent printer. You need a cutting plotter.
3.Which one is better ?
  Because these are two different products, we can't decide which one is better, it depends on the equipment you currently have and your thoughts. But for all the above products, we can send samples for free, please contact us if you need . Thanks for your following.