As we all know, sublimation transfer paper is use on white polyester fabric and hard surface materials with sublimation coating. Then may be some customers will ask a question – if i want to use sublimation on cotton, will it work?
The answer is 'Yes!, but you need use with another material – Sublimation HTV vinyl. Sublimate on our sublimation heat transfer vinyl. It is our new product that specially used on white or light color cotton fabrics.
What size do we supply?
For our sublimation heat transfer vinyl, we have sizes as A4 sheet, A3 sheet, 12″12″ sheet. Roll ones of 12″*25m.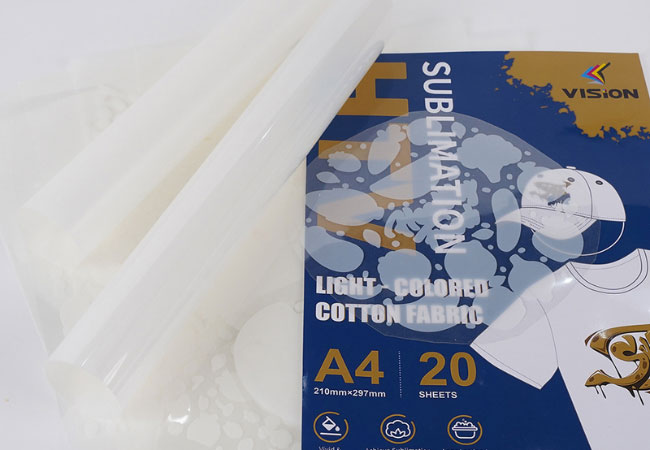 How to use sublimation HTV vinyl?
Using steps as below:
First print sublimation transfer paper and cut the printed designs, please choose mirror printing and high quality glossy paper, and weed extra part.
Second step is cut the sublimation HTV, and peel off no need part.
Third step is heat the sublimation htv onto fabric, choose 180 Celsius and 10 seconds (when peel the backing film, please choose cold peel), then position the sublimation design onto the sublimation htv, then peel the sublimation transfer paper.
About the detailed operation,please watch our VIDEO to learn more.Also,your can contact us at any time.
During the transfer processing, some points you have to notice
When cut printed sublimation designs, need to use with transfer film and a cutting mat (face up).
When cut sublimation htv need to use a cutting mat too (cut mat surface).
Before transfer sublimation htv, need peel off extra parts.
When transfer sublimation htv onto fabric, mat side down.
Sublimation htv divided into light color vinyl and dark color vinyl, Light color vinyl is use for light color fabric, dark one is use for dark fabric.
Advantage of printable sublimation vinyl
Achieve sublimate on cotton fabric.
Suitable for different types fabric, cotton, polyester, canvas, etc.
This clear htv for sublimation is latest research and development products of Shanghai Vision factory, and it has perfect transfer effect on different cotton fabrics by our many tests. if you still have any issue or you want to take samples to try out, please don't hesitate to contact us.