With the development of digital printing industry, recently one new product appeared in this market, that's just our OBM Sublitextile. Shanghai Vision as the leader of it, now service for more and more clients from different countries in the world, but there are still some people who know very little, next let's study it together.
About Vision OBM Sublitextile
The Shanghai Vision OBM Sublitextile is a fabric of sublimation coating polyester, it was developed especially for light or dark polyester, cotton and polycotton fabrics, mainly on sale by roll size, as follow the basic parameters are for your reference:
Roll Size: 50cm*25m
Sheet Size: A4, A3, Etc
Types: Elastic, Short velvet , Long velvet, Rough Pearlescent, Satin Pearlescent, Tatami
Printer: inkjet printer (with sublimation ink)
Pressure: medium pressure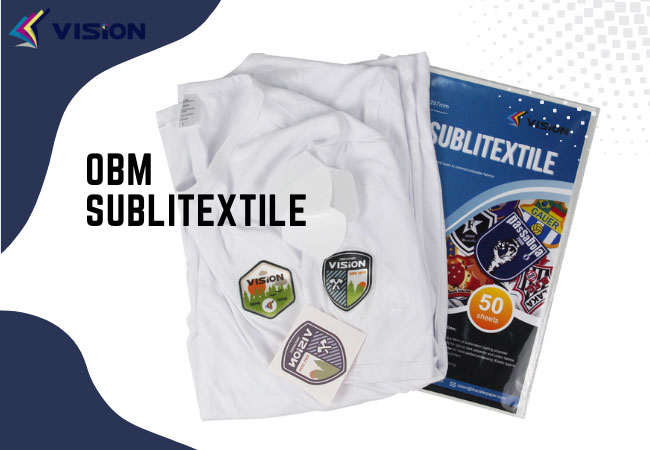 Our Vision OBM Sublitextile is resistant to washing, and it can be used on colored cotton fabrics or white, even in colored polyester fabrics. What's more! it does not need hours for drying, does not fade with time.
And how to use Vision OBM Sublitextile?
First of all, position the fabric in which the OBM will be applied to the heat press.
The second, remove the protective paper from the OBM and place it on the fabric to be transferred.
Third, carefully position the paper with the sublimatic print on the OBM with the image facing down.
Forth, press for 40 seconds at 200℃.
To learn more detailed steps about OBM Sublitextile,you can watch this video.
That's all, Vision is an expert in the production and development of thermal transfer consumables in China. If you want to bring more new products to your business, please try our OBM sublitextile. What's more, recently, We just developed a new product for pure cotton,that is SUBLIMATION ON COTTON, it is a sublimation vinyl for light colored cotton fabrics. I think you can wholesale sublimation htv vinyl for your business and make you more profit and bigger market.
Any additional questions, please contact us at +86-18001836806, or visit us on our website at https://www.visionsub.com/