Where can I buy sublimation paper near me? There are always customers who have this question. Many wholesalers or agents will search for phrases such as sublimation paper factory, sublimation paper supplier on Google, and choose the most suitable manufacturer for their business.In fact, the professional one just by your side — SHANGHAI VISION DIGITAL PRINTING CO., LTD. 
Why choose VISION factory as your supplier?
SHANGHAI VISION DIGITAL PRINTING CO., LTD. has been committed to the research and development, production and sales of sublimation paper, in order to improve the quality of products as the goal, strive to produce high quality performance products. At present, a product system with unique application properties has been formed.
Sublimation paper has wide applications
We produced different grams sublimation transfer paper, which widely used for white or light polyester, poly and cotton mix (50%polyester at least), ceramic, glass, nylon, metal, wood etc, this  process can be used on sport apparel, bolster, curtain, banner, handbag, luggage, tile, bag and poster as they have coating and high temperature resistance.
Free branding
— Sublimation Transfer Paper Sheet
Weight (g/m2): 100gsm/120gsm/125gsm
Reference size: 8.5"*11", 11"*17", A4 (210mm*287mm), A3 (420mm*287mm)
Transfer rate (%): ≥96
Other size can be customized.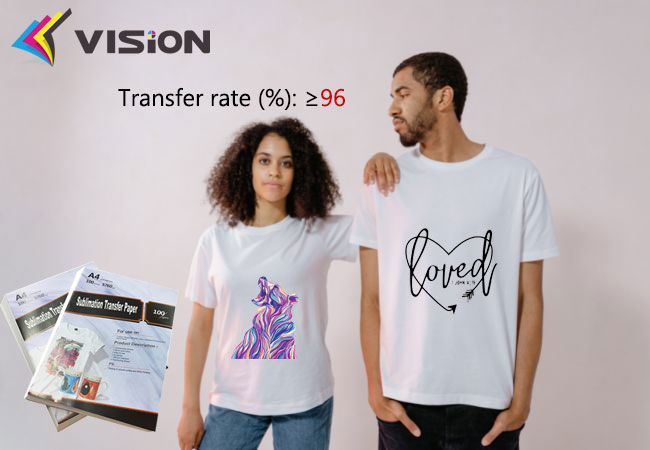 — Sublimation transfer paper roll
Weight (g/m2): 35/45/50/60/70/80/90/100/120gsm
Width: 610 mm (24 inches) / 914 mm (36 inches) / 1118 mm (44 inches) / 1520 mm (60 inches) / 1600 mm (63 inches)
Length: 100m (328ft) / 150m (492ft) / 200m (654ft)
Core size: 50mm (2 inches) / 76mm (3 inches)
Transfer rate (%): ≥96
Other size can be customized.
Etc…
The Recommended Printers:
Brands: Epson, Mutoh, Roland, Mimaki
Epson Models: Epson 3000/4000/400HS/7600/9600/10600
Features:
Fast drying  
High transfer rate: Over 96%
Anti-curl
Smooth surface
Excellent stability  
Excellent color brilliance
The vivid images transferred by dye sublimation paper on fabrics as better as results printed directly. The images from sublimation printing paper immerse into the fabric materials, while good light resistance and no fade long time.
Advantages:
1. High transfer rate: ≥96%
2. Anti-curl.
3. High smoothness of paper, avoid damaging the print head.
Of course, We not only provide you with high quality sublimation paper, heat transfer paper and  heat transfer vinyl are also our hot selling products.So if you want to buy heat transfer products in bulk, we are your best partner, feel free to contact us to get free samples for you to test.