Heat transfer paper is a special kind of digital printing consumble for tshirt that can print the pattern with a printer and then transfer it on clothes. Heat transfer paper mainly divided into light colored transfer paper and dark transfer paper. Light-colored transfer paper is suitable for printing white or light-colored cotton T-shirts or other cotton fabrics; and dark transfer paper is suitable for printing black or dark cotton clothes. Thermal transfer paper by VISION manufacturer is suitable for printing on T-shirts with a cotton content of more than 65%.
The application of light fabric transfer paper is different from dark fabric transfer paper. In this article, we will introduce the operation of light transfer paper.
What you will need
Inkjet printer/Laser printer
New white/light-colored (>65%)cotton or cotton/poly blend fabric
Scissors / cutting machine, Isolation paper
Heat press
How to use light fabric transfer paper
Design
Design your favorite picture on your computer or you can download it online
Print
Use a home or office printer to print your image on a light-colored heat transfer paper. Note that you must select the mirror print mode before printing.
VISION produces inkjet light t-shirt transfer paper and laser light t-shirt transfer paper according to the type of printer, if your printer is an inkjet printer, you should choose our inkjet transfer paper, if your printer is a laser printer, Please choose our laser transfer paper. Please remember that heat transfer paper for inkjet printer is not compatible with laser printer. Also heat transfer paper for laser printer is not suitable for inkjet printer. If you would like to know more about the difference of the Laser transfer paper and Inkjet transfer paper, you can browse our previous article.
Cut
After printing the design, you can use scissors to trim off any unprinted areas. or use a cutting machine, Such as Cricut maker3,Silhouette Cameo 4 to cut out the outline you want.
Transfer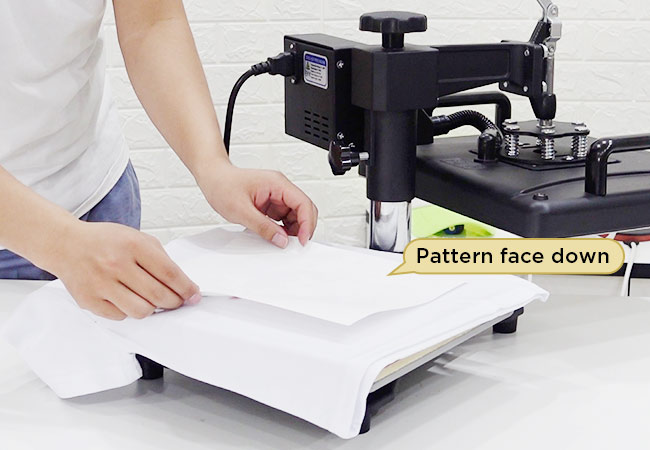 If you have a heat press machine, you can set the time, pressure, and temperature according to the instructions for VISION light transfer paper. For good results, it is recommended that you pre-press the fabric for 3-5 seconds to smooth out any wrinkles and remove any moisture from the garment.
Then place the light transfer paper with the transfer side facing down on the fabric. Place a piece of isolation paper (or parchment) and press down the heat press.
After transfer, remove the isolation paper and gently stretch the transfer area of ??the garment. Tear off the protective layer on the transfer paper and you have transferred a creative design on your fabric!
In fact, Our fabric transfer paper is easy to use.It is very suitable for DIY at home or small batches for your business.
What else fabric does VISION light transfer paper apply?
Light transfer paper is suitable for transfer printing: light-colored cotton T-shirts, backpacks, hats, jeans (trousers), clothing (≥65% cotton, linen, wool, synthetic fiber)
VISION is a professional heat transfer paper factory from China.We have more than 15 years of manufacturing experience in digital printing consumbles for fabric.If you have any issues about the therma transfer paper or want to become our distributor,please let us know.