For the past one year, Shanghai VISION launched DTF Printing (Direct To Film), and have conducted an extensive evaluation of all things relating to the new DTF Printing technology.
Produce short and long-run full colour transfers for garments and textiles, regardless of colour or composition. DTF is compatible with cotton, polyester, leather, softshell, performance fabrics, pique blends, canvas, denim and much more! It is a must for all garment decorators to consider.
Most importantly the new process is simple. Firstly print the roll-fed 60cm wide coated DTF film using a special pigment based textile ink and then lightly coat the printed transfer with a unique hot-melt adhesive powder. Cure the transfer using either the automatic "Shake & Bake" roll fed unit, heat press or traditional dryer. You can apply the transfers immediately to the garment. No pre-treatment is required.
The DTF transfer process is simply the best new transfer solution for many, many years. With our transfer experience, we believe we have the perfect combination to market and more importantly support this product beyond customer expectations. This really is a "game changer for this industry".
DTF offers more flexibility with the transfers. You can forward printed transfers elsewhere for application at a later date with a shelf-life of over 2 years. Therefore creating another potential revenue stream for the user.
DTF printing is ideal for workwear. The print doesn't crack like screen printing as it has a very soft hand due to the water-based ink used. Perfect for garments like overalls, high viz, gym and cycling wear.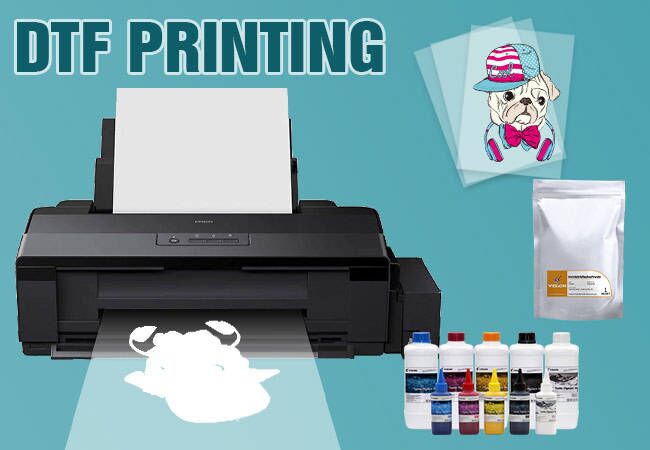 Printing 10 square meters an hour with fully automated curing and adhesive application. It's dual print head technology produces fast single pass prints in high resolution. The quality and vibrancy of the finished garment above all we feel is the best available, you can use the printer as a stand alone without the automated adhesive/curing unit and takes up very little space.
All in all, Shanghai VISION dtf printing factory supply all consumables of DTF Printing, such as the DTF printers and DTF powders, inks, PET films, and so on. All backed with the highest standard of technical and marketing support.
For further details, to request a sample or arrange a demonstration please email us info@visionsub.com or give us a call on +86-18001836806