Yes. From 2022, DTF printing is everywhere. You might think that, with all kinds of custom printing technologies on the market, why do we keep creating new ones? From sublimation paper, transfer paper, heat transfer vinyl, UV printing to DTF printing, etc., various printing technologies are constantly being updated.
In fact, DTF is a unique technology that enables on-demand, one-off garments. So it makes sense that everyone would be interested and that manufacturers would want to sell it.
So here are some practical questions:
What is DTF printing?
How does it work?
What's the use of DTF printing anyway?
What is the cost?
What is DTF printing?
Direct film (DTF) printing is a multi-step garment decoration process in which an inkjet printer applies DTF ink to a film made of PET (polyethylene terephthalate).
When the printer wants to print with DTF, just prepare the fabric as needed, and then iron the printed DTF image directly with the heat press.
The image is secured to the garment using the heat and pressure applied by hot pressing using the adhesive applied in the second step.DTF printing is a process. Inkjet printers apply ink to DTF film, which is then cured. We can then use a heat press to apply the printed image directly to the garment.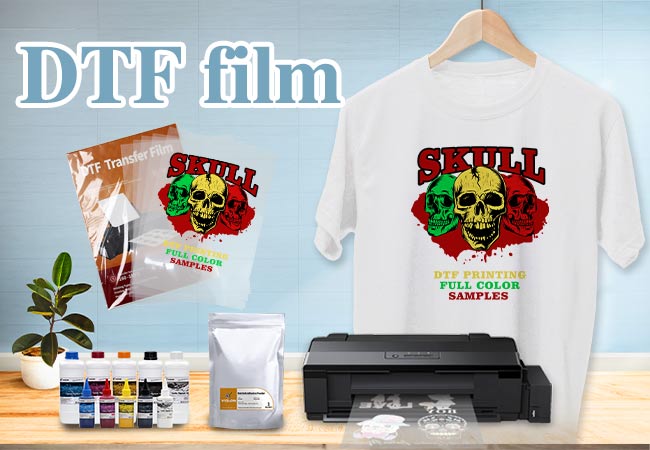 How does DTF printing work?
DTF printing secures the print to the garment by using a high quality adhesive.It can be applied to just about anything that can withstand the heat and pressure needed to print.
Since DTF printing is not limited to the type of fabric,DTF film is used on cotton ,polyester ,blends ,tri-blends ,leather ,spandex and more (light and dark fabrics) and the ink does not have to interact with the substrate, DTF printing is very flexible.
Some common DTF printing applications include: typical garments like T-shirts, hoodies, hard-to-print surfaces like jeans, nylon, leather, etc. It is precisely because of its wide application and simple and convenient use that DTF transfer is very popular now, and more and more people are willing to use this technology.
What's the use of DTF printing anyway?
First of all, DTF printing does not limit the transfer material, no matter if you are pure cotton, non-pure, polyester or whatever, as long as it is a high temperature resistant material, you can transfer it.Second, DTF is a printing film, not paper. Therefore, it can be better positioned when transferring.Third, the price is more advantageous. Compared with other transfer papers, it is cheaper. In addition, DTF transfer film can save time and improve efficiency for mass production.
What is the cost of DTF Printing?
In Shanghai VISION DTF printing factory, we wholesale DTF film roll size:0.3*100m and 0.6*100m and sheet size?A4 and A3, different size has different price, so if you want to know the price of our DTF printer,ink,powder, film, please feel freely to contact us. We will give you the best price and free samples for you to test, thanks.